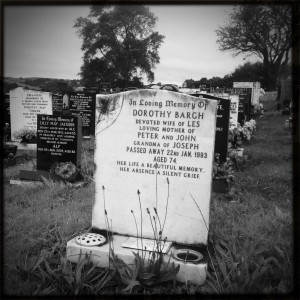 My mum died today. She'd had a couple of stokes, hardening of arteries and angina in her later years.
She was an inspiration to me – always by my side to help me the best she could with whatever I did.
She made a wrought iron garden bench in metal work night school at the age of 70. She would turn her hand to anything. Her next door neighbour had an Afghan dog. She used clippings of its fur to spin wool and made a waistcoat out of the wool for the neighbour.
She was a keen oil painter and would spend many an evening well into the early hours of the morning painting requests for her friends and neighbours and never charged a penny even though she probably struggled to afford the oil paints and materials.
As a kid she helped me with my collections, tried to help with homework although that was always a struggle, and encouraged me when I took up photography. Always there when I needed her.
She was buried in Wisewood Cemetery on Friday 29 Jan 1993