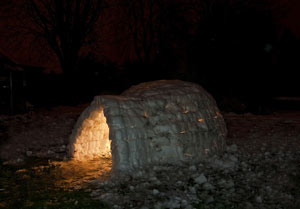 I decided this year I will try to do as many new things as I can. I've made a list of places in the UK that I haven't been as part of that resolution and I will also be on the look out for new activities.
My first challenge, to break me in gradually, was something I've never done with snow before..and that's to build an igloo. I've done snow men and snow sculptures before but never attempted an igloo.
I also decided to record the building of the igloo photographically and then shoot the built igloo at night with an inner glow. I've uploaded the result in my portfolio and the rating is favourable, so I'm pleased with that.
I've also written how to do it on my foliopic site blog Building an Igloo so you can get an idea a) how to build an igloo, b) how to photograph one and c) view one of the strengths of a foliopic site's article system.