As I walked into the home office this morning I was greeted with a low level sun shining through the blinds. Its the first really sunny morning this year and the feeling was good. After I'd done looking at the previous night's photos in the gallery and my cruise around the site I decided to take a few shots.
I used the red glass vase that was used fro my photo in front of the venation blinds on day 5 And placed it in front of a radiator. The light and reflections was spectacular so I framed up and took this photo. I went on to shoot close ups of the neck against the wall which gave really intense colour reflections. I also shot through the glass and used a wide aperture to throw the view out of focus for a more surreal set.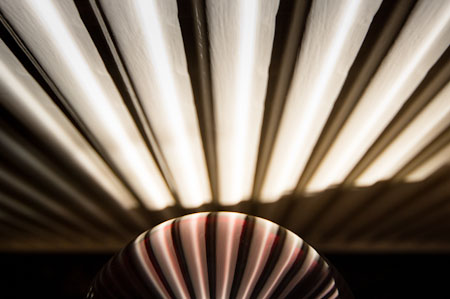 I hope my Photo365 series is showing you that you don't have to go far to be creative…it's just a little imagination needed to spark up some ideas.