Today I wore a black tie. It's the first time it's been out since my father's funeral over six years ago.
And it's the smartest I've looked for about three years. I was at the funeral of a lady who it turns out was very well liked. The church was packed . In her husband's speech I learnt a lot about the couple and the lady's charitable nature. She was a pillar of the community. We seem to have less of these these days and I'm as guilt as the next for not even really knowing my next door neighbour, let alone the people in the community.
Although the person is not directly connected to my family, I shed a tear at the stories being relayed about a couple who had been together for 50 years and, through the guys career in the RAF, lived all over the country and parts of Europe. A very moving ceremony on a freezing cold day.
My photo365 shot today is a reminder of my black tie…hopefully it will not surface for many years to come, but the day, and in particular that speech, will be a lasting memory.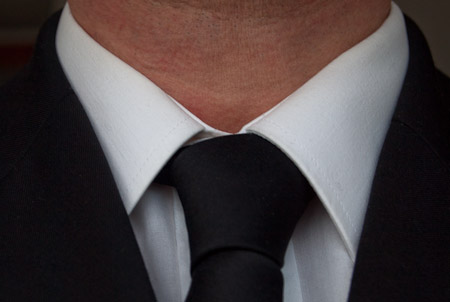 Taken with window light using the Olympus EP2 hand held. To align the shot I using the reflection of the LCD in the window. It took about 10 shots to get the tie straight and the camera central.