Today I have been playing around with an Olympus EP2. It's the new rangefinder style comapct with interchangeable lenses, much smaller than an SLR. I don't know about you but the first day is spent fiddling around with the features, and i was eager to try the ART modes. They need suitable subjects and a I though the black guitar and keyboard suited the Grainy Black & white film effect of ART 5. So that's what I took. The items where in my music room no arrangement made. I placed the camera on a stack of DVD cases to raise it off the ground and set the 2 second delay. I normally shoot in RAW, and the ART mode switches this to RAW with JPG (Jpeg being the shot the ART effect is applied to) The image on the LCD looked fine with good moody tones.
When I downloaded to the PC I saw that the ART shot was a bit too rough, grainy and contrast was a bit ugly, but the normal shot converted to black & white in Lightroom is really good.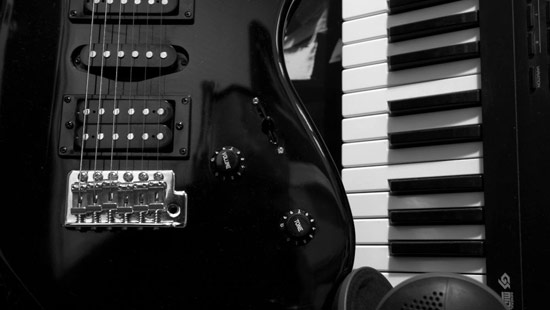 I'm liking the camera already!