I tend to realise I haven't taken many days off somewhere around mid November, so this year I thought I'd spread them through the year. And my first day off was today to go on a walk with my brother and sister in law.
We parked the car at the wall of the Dam Flask in Lower Bradfield, nr Sheffield and walked around the dam in a clockwise direction. It's about 3.5miles and more or less all flat. An interesting walk with a variety of wildlife.
We saw all the usual suspects – grey squirrels, blue tits and great tits, a cormorant, a variety of ducks and geese, chaffinches and magpies.
I took this shot from the overflow area of the dam. It's taken using an Olympus EP2 with the 14-42mm zoom attached. It's an ideal camera for walking. I didn't notice the bird in the sky when I took the shot but I think it adds to the balance.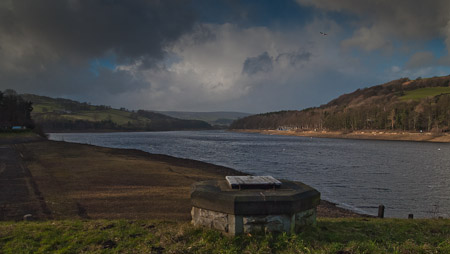 It's for my photo365 project and I'm now I'm on day 1 of month two. My first month down 11 to go!