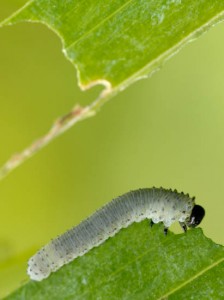 Well actually having looked it up, it's not really a caterpillar, it's a larvae from the sawfly. I get these every year on my Solomon's Seal plant that I photographed earlier in my photo365 series.
The species is known as the Solomon's seal sawfly. I got up close using the Pentax K5 and 100mm macro lens.
I've shot vertically to show another part of the leaf that's been eaten away.
These pests strip the plant after its flowered and create a skeleton structure.