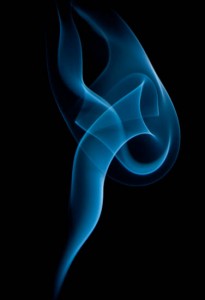 I've been meaning to have a go with incense smoke this year but never got around to it. Yesterday I bought some sticks…tonight i had a play.
This is using very basic equipment to show you don't need to spend a fortune.
Incense stick held up on a chair using tape.
Budget auto flash set at f/4 and positioned to the left or right of the rising smoke.
Camera on manual 1/90 sec at various settings between f/4 and f/6.7
Black cloth backdrop held up using clamps from Poundland
Camera on tripod but it could be resting on a chair/table/bench
Light the incense stick and fire away (manual focus – focused on the stick tip and reframed to exclude tip)
Shoot in draft free room and waddle finger or blow to create movement / shapes.
I coloured it while processing in Lightroom just by altering white balance sliding temperature towards blue end of scale.