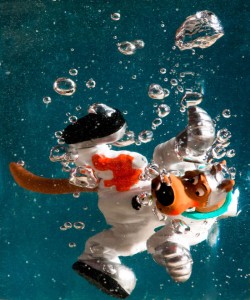 Having been inspired by the pepper splash series that Dave Ovendon posted a few years ago on ePHOTOzine , Ive been meaning to have a go myself. My first recollection of this type of photography was a brilliant photo posted by iraddict way back in the early days of ePHOTOzine. It was a green toy with a comical face.
So I had two initial things to do before attempting this. One to buy a suitable container to do the drops. I found a low cost fish tank in B&M (about £13) – I then went on the hunt for a toy. I wanted soemthing that would look good under water with bubbles around it that was also quite humorous. I tried Toys R Us first with no joy, then a number of lesser know toy shops around Sheffield, Worksop, Lincoln, Doncaster.
Eventually found Scooby with in a kit with some slime and Velma (glasses not lost at this stage) and only £3.
Today I performed a test run using a standard 1 litre glass measuring jug and two flashguns. The water isn't clean enough so I will have to fill the fish tank with distilled water.
The flashes were placed at each side of the jog one was set to auto as the main trigger and the other was a Vivitar 283 with a vari power module set to 1/32 power. I did a quick test and found f/13 was the right exposure.
I then dropped Scooby from quite a height and triggered as he hit the water. A few shots later I had determined when to press the shutter and also that dropping from a close distance resulted ion a cleaner set of bubbles.
Here's the best one from the test.