I was supposed to be going on holiday for the first time with my girlfriend Kath. We split up about three weeks before, so my mate Steve said he'd go with me.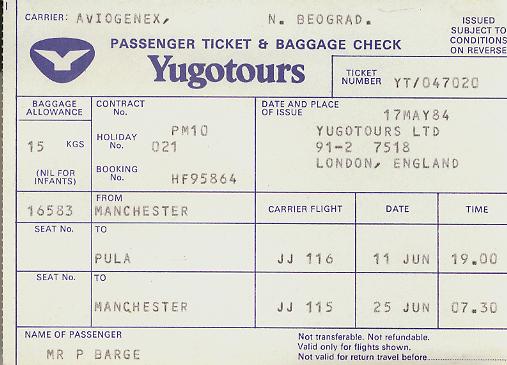 It was a 14 day holiday from 11th to 25th June. We took a few day trip excursions including a trip to Thessaloniki and a day to Venice. We also visited Postojnska Jama cave and the Lipizzan horses on their Lipica Stud Farm
We played a lot of crazy golf, drunk a lot of Grappa, and hung around with an eight year old German girl…well she hung around with us. We couldn't keep her away. Good job we didn't have the Jimmy Saville stigma over our heads or we may have had to hide a lot.
I got sun stroke one day and had to stay in bed.
It was my first holiday abroad, and a very enjoyable experience. I went back to Yugoslavia for my honeymoon the year before the wars broke out.
For some bizarre reason I kept all the daily menus… I will always remember the waiter with handle bar moustache who used to serve our table…and ask eeeeyze screeeeem, poooding? And the lovely cleaner who I fell in love with and decided to learn the phrase "you are beautiful", which I still remember, but never dared say it to here…Ti si lijepa.
Also the man who used to serve chevapchichi from a hut on the beach.
We met a woman who was friends with Annie Lennox