Just got back from a weekend out and about. I went over to the Lake District and had a lovely time, despite a catalogue of errors that has continued now I'm home.
The start Saturday…I forgot various things and had to go back home to get them…resulted in later than expected kick off.
First stop Scaleber Force nr Settle. I took a newly purchased interval timer remote to do big stopper timed exposure but didn't take glasses and couldn't remember which settings were need to set 3 – 5 min exposures.
Weather intermittent and not ideal for location.
Over to to Pen-Y-Ghent weather had become lovely, cloudy but perfect for walking with sun breaking through to turn landscape quite spectacular. Headed off up the hill and as soon as we got to a decent height for photos, cloud came down along with rain. Got drenched! Walked over summit and didn't see a thing. Descent wet and miserable and no sign of summit where we'd been.
Soaked but decided to go up to Castlerigg Stone circle for evening shoot. I'd not planned this so didn't know directions but Castlerigg nr Keswick was located in Sat Nav so we set off. Arrived at 8:45 (dusk) at Castlerigg farm…no signs for stone circle. Got OS map out, but car interior light stopped working so couldn't locate circle on map.
Decided to call it a day and head off to B&B. Arrived at B&B in Kendal (still soaked) Changed and went out for Indian On opening the door to enter the Indian we were greeted with the loudest noise we've heard in a restaurant. About 11 lads, all drunk, were shouting at each other as though they were in a night club with loud music. They were discussing where there might be girls or how to pay a local a tenner for sex. Great. It might have been mildly amusing if it wasn't deafening. They left after ten mins so the place quietened down. Finished meal and set of back to B&B. It started to rain and we'd walked so a second soaking occured.
Got back to B&B, plugged laptop in and started to look at photos but it went dead slow and I fell asleep waiting.
Picture from the day is a style at Pen-y-ghent This was taken with the iPhone as it was easier to use than the SLR while the rain was heavy and for another reason which will become clear in tomorrow's post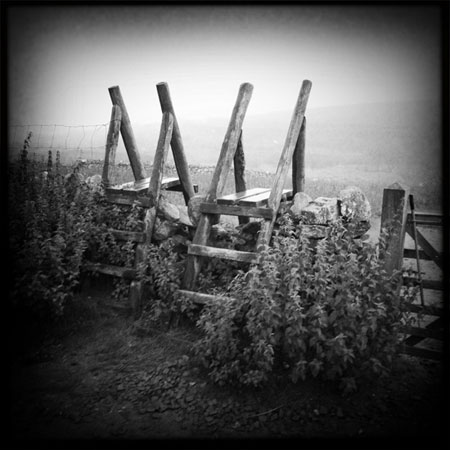 .