Today seemed to be a day of power. It started when I decided to go on a bike ride. I haven't been on the bike for a few weeks and some areas where quite a struggle on my route. Mostly flat, but the hills hurt and power was certainly needed in the legs.
I cycled up the canal from Worksop towards Chesterfield and got as far as Kiverton Park. Here I photographed the old colliery – a symbol of mining past and power fuel. I then took a circular route back passed the wind turbines near Harthill. I stopped to photograph them backlit by the low winter sun. As I was taking photos an airplane appeared in shot, and I quickly managed to get this one -seconds later the plane was behind the turbine and the moment gone. The shot brings together two forms of powers.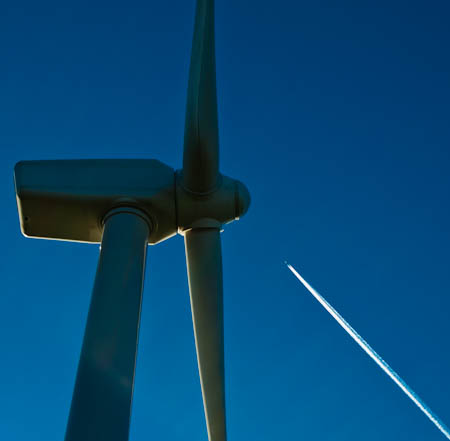 I cropped the photo taken on the Olympus E-P2 and darkened it to bring out the rim light edge.
I continued my journey and was passed by a car, seconds later I saw the car stop. As I approached it was in the middle of the road with the front end crushed and oil leaking onto the road. In front was a four wheel with a small dent. The women driver of the 4×4 was saying she'd only come this way because a crash further up the road had blocked the road. I looked and in the distance I could see another pair of cars head to head. The same stretch of road seems to be perilous.
I cycled passed feeling relieved that I was on a push bike. The second pair was an older guy in a 4×4 and a young lad in a small car that, like the previous one, was well and truly crunched in the front (but this one was also rammed backwards into the steep bank so the back end was a bit wrecked too. Seems like 4x4s may not just be good for getting around the countryside, but also protecting you in a head to head!
I couldn't help thinking power in the wrong hands maybe?
I wore my Stealth Gear coat which allowed me to carry the Olympus E-P2 in one of the pockets, while spare lenses and the iPhone were each in another pockets.