Today proved to be a bit of a mare. I decide to go to Three Shires Head for the first time and forgot to take a road map. I headed off to the Cat and Fiddle with the knowledge that Flash was nearby. Had lunch – lovely bacon baguette, and then asked for directions to Flash. I parked the car in a lay-by on the main road with a plan to do a walk from the Mark Richards White Peak Walks book.
It was freezing even with several layers, so we decided to cut it short and park closer, which meant taking a back road. At one point I reversed to turn around and got the car stuck – heard a huge scraping sound under the front bumper and thought I'd done serious damage. Bizarrely on inspection it was just a scuff to the underside. I parked in the road side and we headed of to Three Shires Head.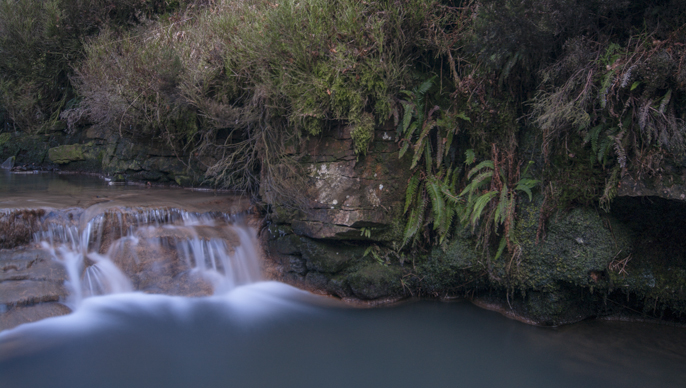 This was one of the mini waterfalls half way down the track
It's a lovely photogenic spot with a couple of bridges and several waterfalls. There was ice all around and sadly it started to snow with fine specks that kept getting on the filter during the exposure, so I had to give up and put the camera away.
We headed of back up a hill and somehow took a wrong turning. It was starting to go dark and we were on the top of the moors – no map, no idea which direction and no idea where we'd parked. The book wasn't helping!  Quite scary, but after a while of rambling around aimlessly I noticed a familiar landmark and was able to find the way back.
Note to self must be more prepared!
All came good when we ended up in the Indian Palace restaurant in Buxton – superb food!