King Crimson gig live at the Birmingham Symphony Hall. Went with Gerald, we had tickets in a high place so looking down on the gig.
I've been a fan for more years than I want to mention, but this is the first time I've seen them live. Goosebumps at the beginning and near the end is unusual for me, but those bumps, and the feeling associated, came.
Interesting set. They played some classics extremely well and amongst them were some of my all time favorites.  See set list below phot. 21st Century Schizoid Man was brilliant, although three full drum kits seemed a little excessive.
Before they came on a pre-recorded message from Mr Fripp went into detail about not using cameras or phones to record or photograph the gig. As a result I only saw one photo being taken, so a well behaved audience.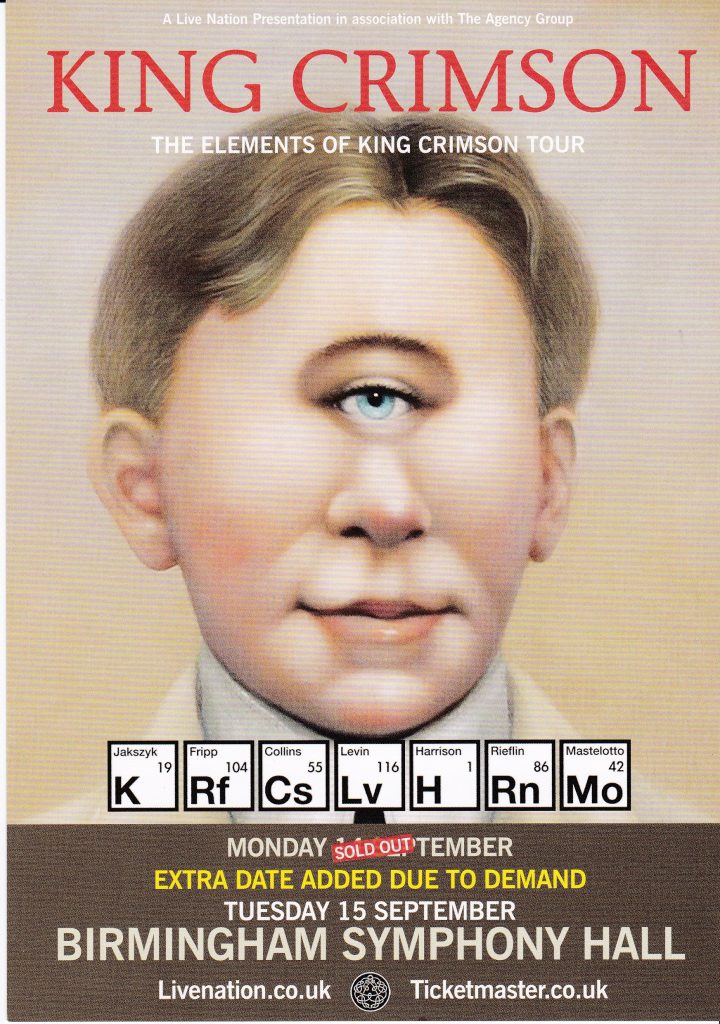 Larks' Tongues in Aspic, Part One
Red
Suitable Grounds for the Blues
Radical Action (To Unseat the Hold of Monkey Mind) I
Meltdown
The ConstruKction of Light
Level Five
Banshee Legs Bell Hassle
Pictures of a City
Epitaph
Hell Hounds of Krim
Easy Money
The Letters
Sailor's Tale
Starless
Encore:
Devil Dogs of Tessellation Row
The Court of the Crimson King
21st Century Schizoid Man