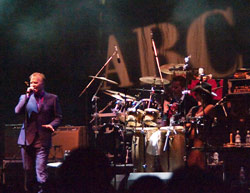 That's where I went last night in Clumber Park at a gig that had a line up of T'Pau, Go West, Belinda Carlisle, ABC and Human League.
Back in the 80s I'd roamed away from UK music to more obscure ambient and German rock. So 80s music doesn't really appeal, but I went with work as a night out for the team…and, despite reservations I really enjoyed it. T'Pau were average, and only did a few songs. They were off before they'd had chance to get warmed up. Then Go West came on and got the crowd moving. Not me I'm not a Go West fan, although the singer did sound really on form. And then they did U2's Vertigo and that rocked.
Next up Belinda Carlisle, Started off great and I mus admit to fancying her in the 80s so good to see she's still in good form. Sadly the same couldn't be said for her voice which started to miss notes after the third song. Nevertheless, hearing some of the classics was good, even though they were out of tune!
Then ABC. I've known them since the early electronic days when they were Vice Versa. Never a fan of the glitzy pop style of the 80s though. And last night they didn't deliver to my ears. A disappointing set.
Finally headliners, Phil and the girls with Human League delivered a great set. The drum structures and synth pieces worked well to get the crowd bopping. Recognisable hits such as Don't you want me Baby and Love Action sounded even better than I remember, and then they played Empire State Human from the first album. Giving the Girls a rest Phil sang this one alone and it was a classic moment. The highlight of the night for me.