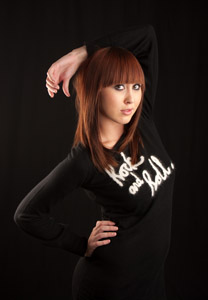 I recently over heard my cardiac nurse saying "she wants to be a model" and couldn't help push my nose in.  I soon found  out she was referring to up-and-coming model, Chloe Bleackley, who'd done some catwork work, but never modelled before. So I offered to take some shots to kick start her portfolio.
I spent Friday evening in the Turbine Studio with Chloe. It's the first studio shoot I've done since the heart attack last year.
Chloe turned out to be far better than I expected for a first shoot. In fact, she was much better than some models who've been doing it for years.  She's very alert to how models pose and has spent time watching TV etc to learn. So when she started moving I was gob-smacked at the ease of flow.
Happy as they come, but also capable of turning on a sultry pose.  I'm sure she'll go far.
You can see Chloe on Model Mayhem here Chloe Bleackley
And a few photos from the shoot in my gallery pages here:  Chloe Bleackley