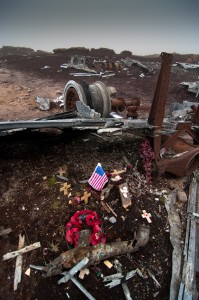 It's been a while, but I'm now feeling good about climbing hills and venturing off the beaten tracks. Last week I took the day off and walked from the Strines Reservoir Car Park over to Derwent edge and did a round walk across the edge, downto Cutthroat Bridge and back over to the Strines Inn for a pint of the guest Ale. I think it's about 6 miles. I wasn't phased and the legs didn't give in.
So yesterday I did what I've been meaning to do for several years and visited the crash site of the B-29 Superfortress on Higher Shelf Stones, nr Bleaklow. It's not too difficult to get to, but is very exposed, and, despite it being May, we hit a short hail storm. Thankfully it quickly passed.
The quarter mile area of airplane wreckage isn't marked – basically you walk the Pennine way from the top of the Snake Pass, heading towards Bleaklow and then take a left to cut over the moorland and head for the trig point on Shelf Stones.  The wreckage is about 500 yards or so from the trig point.
It's an incredible site and quite Eerie. Fragments of riveted aluminium and stainless steel, engines and various other objects are scattered everywhere. Poppies and remembrance crosses have been left over the years, some made from nearby gritstone on the exposed peat.
The site is well worth a visit.