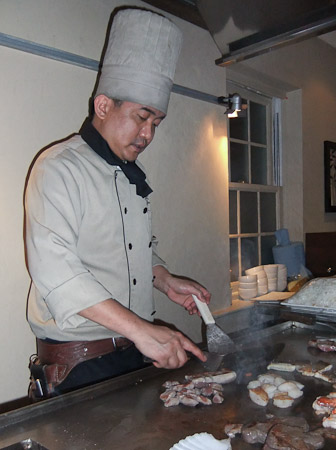 One of my best friends invited me out for a meal with them this evening…it was hard to refuse. A night at the jimja tree in Bawtry. This is an oriental restaurant mainly Japanese, with several areas to sit around and be cooked to!
The chef prepares the food and cooks it in front of you..and performs a set of tricks with the cooking utensils and eggs.
Eggs are juggled, slung and split, caught in the hat, bits of fried egg is tossed to you with open mouth in a game of catch, and many jokes thrown around as you watch the food appear and cook.
The food was incredible. I had Chicken Breast with Teriyaki Sauce and Fillett Mignon Steak with Yaki-Niku sauce, followed by Black Sesame Ice Cream. I'm now suitably stuffed.
My photo today is a snap shot taken using the Fujifilm F70 EXR of the chef starting to cook the various meats and fish for our table. It's with flash as the ambient light was too low to avoid subject blur…and sadly the flash has delivered a hard shadow, but you get the idea.