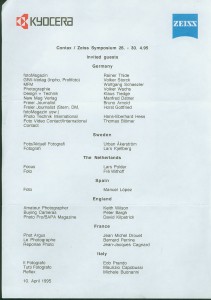 I attended the International Contax Zeiss Symposium at Richard Branson's Hotel La Residencia in Deia, Mallorca
I was editor representing  Buying Cameras magazine.
The objective for Contax was to discuss the methods used for magazine lens testing and the quality of Contax lenses. They were not happy with the general reduction in magazine testing quality and were suggesting that the technical editors were no longer very technical and didn't understand the finer aspects of lens performance. An interesting debate!
Contax representatives
Leo Stejskal
Invited UK Press
Peter Bargh, David Kilpatrick, Joel Lacey