My attention was drawn to Gary Numan back in 1979 when I heard a Lee Cooper advert with Tubeway Army's Dont be a Dummy used as the backing track.  I bought the album on blue vinyl, limited to just 5000. Weeks later he appeared on Top of the Pops and rocketed to instant success.
I recall having an argument where I said to a good friend that he was better than David Bowie (I'd been a huge Bowie fan but this was 1979 and Bowie was drifting into his Lets Dance era). It seems I wasn't alone – synth bands had seen him on Top of the Pops and where in awe.
His tour was something else. Huge banks of fluorescent  tube backdrops created a very black and white stage set. And he stood in the middle surrounded by geometrically aligned band members all dressed in black.
I drifted from his music after his second album, but returned a few years ago to hear a very different rock orientated synth music that was  invigorating. Taking the heaviness of bands like Deftones but using synths to provide the melodies.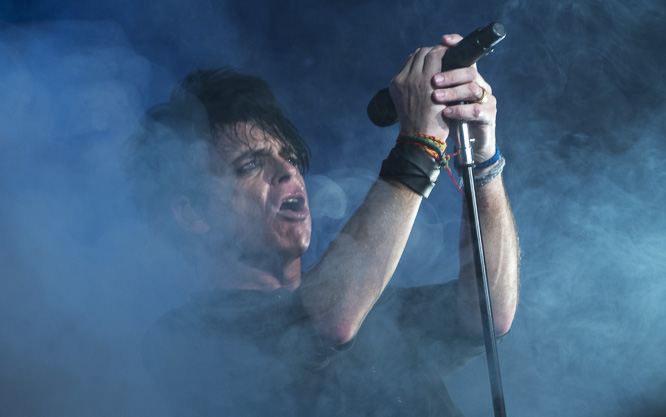 Last night I went to see him at the 02 Academy in Sheffield. On stage now he's really animated – a far cry from those static cool looking poses he used to pull. The mature Numan entertains in a totally different way. And the crowd love him. He still plays a few of the old classics, Down in the Park, Cars, and Are Friends Electric, but most of the music is from newer material including tracks from the new album Splinter and takes the formula that worked so well for him into a new dimension.
Hi support band Losers, liked to tell us they were called Losers ( about five times if I counted correctly). I'd not heard them before but was  struck by how cool they were, and they performed a set with some great twists, excellent rock band. Great vocals and interesting bass treatments (including some unplanned sub bass!). Liked them so much I bought the CD at the merchandise stand.  The bass player also commented that of all the people he liked Sheffielders the most.