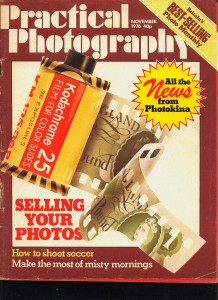 I bought my first photography magazine.
I'm not sure of the exact date so I have picked the week before publication month.
The issue included adverts for Agfa CT18 film, Yashica FR cameras, the Olympus OM-2, National flash, Canon FTb, Fujica St605 and much more. It seemed more ad lead than editorial and reflects what appeared to be a very healthy photo industry…a complete change to how things are today!
The editor was Robert Scott who now runs Canon EOS club and the ad manager was my good friend Mike Elliott who currently works for Bright Publishing